Surgery can be a sensitive time with many unknowns, outcome uncertainties, and hopes for a speedy recovery. To remove some uncertainty, it's a good idea to think through and plan both the pre-op and post-op exercise activities you will undertake. Pilates can be a safe and healthy way to both prepare for an operation and recover after surgery!
Pre-Op Pilates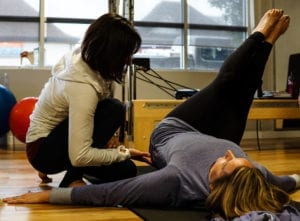 To help achieve a fast recovery and enhance rehabilitation, Pilates with a trained instructor is a great part of any pre-surgery fitness plan. Increasing fitness allows you to enter any surgical procedure stronger and in better shape to help your body cope with changes. At Firehaus Pilates, we refer to this as 'pre-lates'!
Starting a Pilates exercise program before an operation begins with an assessment with your instructor. Understanding your goals, fitness level, lifestyle, and upcoming procedure enables the right Pilates exercise program to be developed. Working with an experienced instructor, Pilates is a safe way to train and build muscle strength and memory in targeted areas throughout the body.
By using guided Pilates exercise, clients can increase strength and improve flexibility to enable the body to better cope with, and recover from, surgery. Pre-op Pilates introduces you to the Pilates approach and gives your body a head start for rehabilitation.
Post-Op Pilates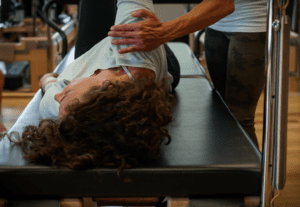 After surgery, once you have received instruction from your doctor or medical team to begin rehabilitation, Pilates is a perfect choice. At Firehaus Pilates, our rehabilitation program focuses on Polestar Pilates methodology, which is driven by an evidence-based curriculum and designed to safely support post-surgical rehabilitation for the best results.
Pilates rehabilitation is designed for your unique needs and considers your particular surgery and post-op condition. With expert instruction, you can expect to regain strength, improve flexibility, control pain, and increase mobility. Pilates offers basic, gentle movement that can enhance the alignment of your body and better align muscle movement and achieve balance.
Rehab Pilates also provides education and insight into how the exercise and movement are affecting your body. Clients are encouraged to self-guide and understand your Pilates training program to maximize ownership and benefit from post-op rehabilitation. The goal is to help get your health and fitness back as soon as possible!
Rest assured, that both pre- and post-op Pilates can help rehabilitate a wide range of conditions. From hip and knee replacements to neurological impairment to osteoporosis, and much more, Pilates is an excellent way to improve your strength, enhance control, and increase flexibility.
If you have an upcoming surgery or you are wondering how to recover during rehabilitation, contact Firehaus Pilates! We have extensive experience supporting pre- and post-op clients in developing the right Pilates program for the maximum benefit.