While Pilates has been around since the 1920s and became well-known in the 1960s, it really took off in popularity closer to 2000. Almost fad-like in its popularity, Pilates garnered 8.6 million participants by 2010, and interest hasn't waned yet. Some of its most devoted followers are A-list Hollywood celebrities, who have found the exercise a tried-and-true method for shedding pounds and maintaining bodies that have become objets d'art.
Hollywood celebs are among the most heavily scrutinized for being in shape. Most film roles require actors to look perfect in clothes and out – a tall order that leads celebrities to depend heavily on their Pilates instructors to keep up healthy appearances.
Mari Winsor who operates several Los Angeles Pilates studios, has earned the moniker "Queen of the Pilates," has released a number of fitness DVDs, and has trained some top stars, including Samuel L. Jackson, Minnie Driver, Melanie Griffith, and Marisa Tomei. She notes, "Celebrities come to me because it works — they know that if they have a role to do, if they've gotta be in a bathing suit, or less, in three weeks or four weeks before they actually get on the set, they know they can come to me and change their body very quickly" (nbcnews.com).
Nicole Stuart, who has trained the stunning Kate Hudson for more than 15 years, echoed Winsor's sentiments during an interview with Shape magazine: "It primarily works your core, but not just the front. You'll work the entire body—front, sides, back, your whole midsection, trunk—it pulls everything in and together. You'll become tighter, more toned, and stronger. It makes you stand taller, makes you have more confidence, makes you more grounded. You'll lose inches and get that leaner, longer look. After the first 10 sessions, you'll feel different. After 20 sessions, you'll see a difference!"
It almost goes without saying that if you're looking to achieve a body fit enough for the spotlight, you'd do well to follow the lead of celebrity trainers and such celebrities as Cameron Diaz, Kate Winslet, Penelope Cruz, Sandra Bullock, and Chelsea Handler—all who swear by Pilates: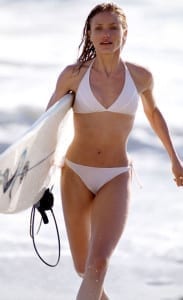 Actress, former model, and Pilates devotee, Cameron Diaz has been long known for her long, lean, and toned physique. In 2013, Diaz published The Body Book, a fitness book focusing on the benefits of exercise that go beyond the physical and address emotional and psychological health as well. For the first time, the actress performed nude on screen, looking as fit and confident as ever at the age of 42. Her daily workout regimen includes running, weightlifting, and (of course) Pilates.
Academy Award–winning actress Kate Winslet has never had qualms when discussing body image. In 2003, she lambasted GQ when the magazine photoshopped her figure to make her even thinner, and has been very outspoken in condemning Hollywood's obsession with thinness. So when Winslet appeared in 2009 looking as svelte and fit as ever, all eyes were on her. Her secret: Eating sensibly and doing Pilates workouts for twenty minutes every day. "I've achieved my ultimate figure," Winslet told Courier Mail.
Spanish actress Penelope Cruz has mystified the world with her beauty ever since she hit first hit the silver screen in 1992. At the age of 40, she was chosen to play the part of a James Bond girl. The role has always required actresses to be in peak physical condition, which previously translated into younger actresses being cast. Cruz will become the oldest Bond girl to date, a testament to her diet and fitness program. While Cruz once studied ballet, she currently relies more on Pilates to stay at the top, and was voted Hottest Celebrity of 2013 by Fitness Magazine.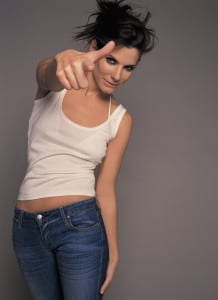 A runner up for Hottest Celebrity of 2013, actress Sandra Bullock is famous for her strong, super-fit body. At age 50, she's still a major hit at the box office, making films such as "Gravity," which require her to be at a stellar level of fitness. Among her daily fitness routine, Bullock incorporates Pilates, which serves to sculpt her long and lean muscles.
Always in the public eye, Chelsea Handler has strived to keep up her physical appearance as a comedian, actress, author, television host producer, and civil rights activist. In recent years she decided to step up her game, not only for her audiences but for her health. Unsatisfied with the results she achieved by running and doing yoga, she switched to Pilates and hasn't looked back. Since doing Pilates five to six days a week, Handler has taken her new body for a spin, posing for the covers of Shape magazine and Playboy.
Over such a short period of time, Pilates has become synonymous with health-boosting, fat-burning, and body-sculpting for celebrities and plebeians alike. Over the years, it's garnered the attention and loyalty of millions searching for a workout that can be done at any age to deliver top results in a reasonable amount of time. If you're searching for an exercise that will keep you active and make you feel amazing, maybe it's time to join the ranks of Hollywood stars and take a Pilates class, too.  Contact Firehaus Pilates in Denver to start today!